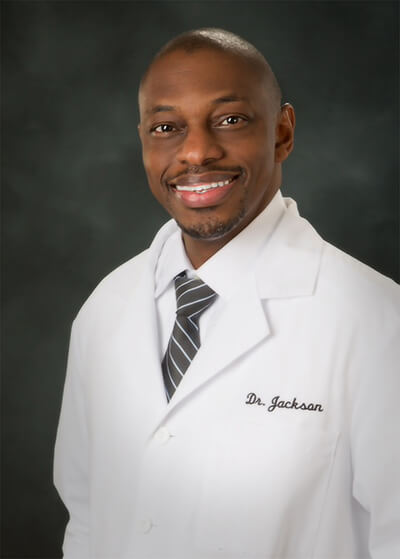 Dr. Kurt Jackson has been a practicing vitreo-retinal surgeon specializing in medical and surgical eye disease for more than a decade and is the founder of Jackson Eye Care. Passionate about bringing quality ophthalmic care to his patients, Dr. Jackson specializes in managing all diseases of the retina, vitreous, and macula, including macular holes, retinal detachment, diabetic retinopathy, ocular trauma, and macular degeneration. He has also been an Investigator for nationally recognized clinical research trials seeking newer and more effective surgical and pharmacological treatments for vitreo-retinal pathologies.
Dr. Jackson is fluent in both English and Spanish and looks forward to serving the needs of his patients. While serving in the U.S. Army as a medic for four years and an eye technician for two years, he received a US Army Achievement Medal, Commendation Medal, Good Conduct Medal, and a National Defense Medal.
Dr. Jackson attended Long Island University and graduated Valedictorian of the Class of 1998. He was accepted into the prestigious Albert Einstein College of Medicine where he graduated in 2003 with his medical doctorate degree. After completing a transitional internship at New York Hospital Medical Center in 2004, he returned to Albert Einstein College of Medicine to pursue his residency training in Ophthalmology, which he completed in 2007. Dr. Jackson served as the Chief Resident at Jacobi Medical Center from 2006 – 2007.
​Dr. Jackson completed his two-year vitreo-retinal Fellowship at South Texas Retina Consultants in Corpus Christi, TX in 2009, then became a practicing vitreo-retinal surgeon in Corpus Christi, TX from 2009 – 2011. He then practiced in Greenville, NC from 2012 – 2013 and returned to the northeast to become an Associate at the Retina Center of New Jersey from May 2013 – January 2021.
​Happily married, Dr. Jackson and his wife, Kai, have three children and currently live in Montclair, New Jersey. In his spare time, Dr. Jackson enjoys spending quality time with his family and is active with his church.